2020.07.13 Monday
犬と暮らすには、犬に仕事を作ろう/To live with a dog, make a job for the dog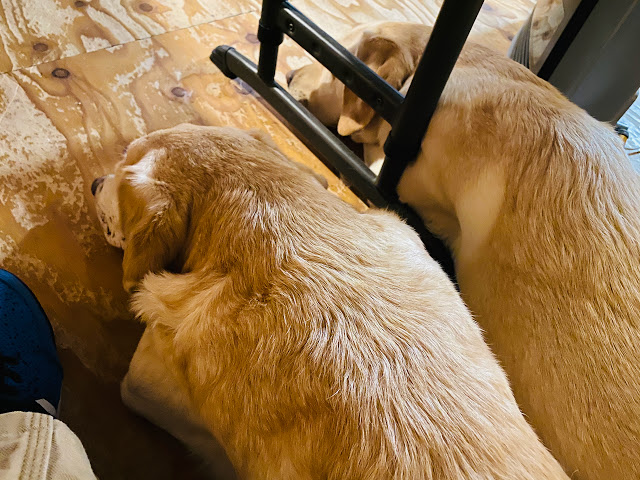 犬は仕事をすること、自分の役目があると喜びます。
そばにいてくれると嬉しい人は、そばにいることを仕事にしてあげる。
仲間とじっとしてもらっていると、仕事もはかどるので、じっとすることに、役目を与える。
関係がうまくいってくると、仲が良くなるし、信頼関係ができて、安心感が増して、お互いに幸せになってくる。
可愛がりたいから、何か役目をあげる。
家族だってなんだかんだと役目ってあるじゃないですか。
そんな感じ。
居場所がないと、しんどいんだと思う。
この考えを教えてもらってから随分、犬との関係性がよくなったと思う。
失敗しても、仕事なんかじゃパートナーとかを叱りつけたりしないでしょ。
同じだね、でも、なんとなく怒っちゃうんだよね、、、が本音だと思う。

犬が喋れたら、自分はなんの役目があるのかな?
なのを頼まれる?
期待されるのかな?
気になる。

なんとなくじゃなくて、こうだったら、こうだろうみたいに、ガチで考えてみて、実践してみると結構面白いし、犬との付き合い方って、本とかいっぱい出ているじゃない。
でも、これと言って正解ないし、難しい感じすると思う。

自分は、犬らしさ(動物らしさ)を残して、その中で、良い距離で、一緒に暮らすルールを共有して暮らしたい。
一般的な、人を攻撃しちゃダメとかは自然と、この中で覚えている気がする。
あえて、教えたことはないな、、、。

心を許していない、突然の訪問者、、、ごめんなさいだけど、初めてのガスの検針の人に吠えるは、自然のこと。
ピンポンなしで、こっちもびっくりしたし。(苦笑)

一緒に暮らすって、ワイルドな動物と暮らすんだから、それなりにこっちも変化と、許したり、認める範囲が変わるよね。
合わせろと言うより、お互いに良いとこ取りして、アレンジして暮らせないなら、無理だね。

動物と暮らすって、賢くなると思う。

どうかな?
Dogs are happy to work and do their part.
People who are happy to be by their side will work for them.
If you get it with your friends, it will help you to get the job done.
When the relationship goes well, we get along well, we have a relationship of trust, we feel more secure, and we are happy with each other.
I want to be cute, so I will do something.
I guess family members have a role to play.
something like that.
I think it would be tough if there is no whereabouts.
I think my relationship with dogs has improved a lot since I was taught this idea.
Even if you fail, you don't scold your partner for work.
It's the same, but I'm kind of angry... I think the real intention is.
What role do I have if the dog speaks?
Can you ask me
Is it expected?
concern.
It's not like it's something like that, but if it's like this, it's pretty interesting when you think about it and put it into practice. There are lots of books on how to interact with dogs.
But I don't think this is the right answer, and I think it's difficult.
I want to live with the dog-likeness (animal-likeness) and share the rules of living together at a good distance.
I don't think it's natural to attack people, but I feel that I remember this.
I haven't dared to teach you...
A sudden visitor who doesn't mind, I'm sorry, but it's natural to bark at the first gas meter reader.
I was really surprised without ping pong. (Bitter smile)
We live together with wild animals, so that's how things change, and the extent of forgiveness and recognition changes.
It's not possible if you can't live by arranging each other's good points, rather than putting them together.
Living with animals will make you smarter.
How about?
Calendar

1
2
3
4
5
6
7
8
9
10
11
12
13
14
15
16
17
18
19
20
21
22
23
24
25
26
27
28
29
30
31
Selected Entries
Archives
Links
Profile
Search this site.
Others
Mobile
(C) 2020