2020.06.13 Saturday
遠くを見ることが幸せを倍増させるコツ/Tips to double your happiness by looking far away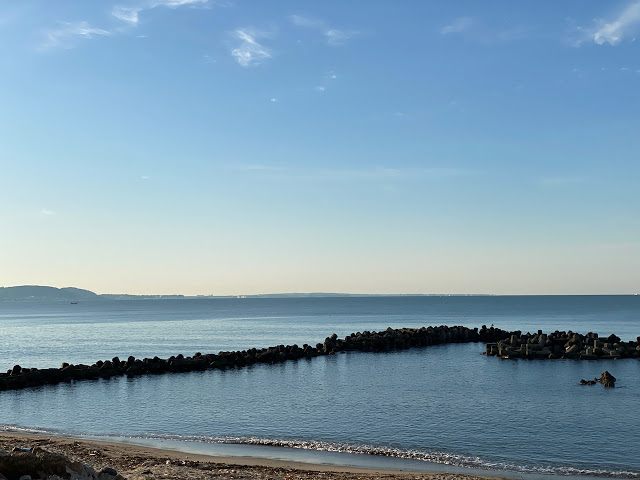 ここんところのリモートワーク、相手側が受け入れてくれるようになったことが、とても進化したところ。
今までは、礼儀としてもだが、伺う、会うが恒例。
事情が変わり、会うことを強制はできない、望むのも、なんかできない人っぽい感じ。急な変化は、不自由もあるが、見てて面白い。
画面越しだが、会っているわけだし、リアルタイムで、時間を共有している。
技術は、こう使うべきだと痛感した数ヶ月だった。
外に出れないのはしんどかったが、他に関しては、かえってすごく合理的で、理想の生活に近づいた感じ。
手作業系は、それは当たり前のように、リアルに手作業をして、そのほかは、紙ベースではなくなりつつ、画面と睨めっこで進んでいく、当然人と話すのもそうなるわけ。
この急な変化に興味を持つことが少なからづ出来ない、楽しむとはあれだが、こんなやり方あるねーみたいな、興味本位でも、取り組まない、、、。
なんでだろう? 怖い? 不安?  自信がない?とか原因はなんだろう、、、?
頑固なだけ?頑固ってなんだってなってググる
1、かたくなで意地を張ること。わからずやで、押しの強いこと。片意地。
2、しぶとくて、除きにくいこと。
厄介でしかない、、、、、、、。
今の世の中の決定権を持つ世代が、頑固なのは皆さん承知。
しょうがないことで、歳も取れば頑固だよね。
とはいえ、見過ごすのは、今の時代には合わない話。
だから、そこそこ歳とってきたら、気を使うのは、健康と頑固でお願いしたい。
目の前の世界だけ見れば見るほど、よく見えるから、よく知ってるから、好き嫌いが出ちゃう、だから頑固になっちゃう。
すごく遠くの大きなもの(目標とかね、、、)を見ると、景色みたい、目の前も、その途中も、色々あるんだろうけど、壮大な景色の中に収まってしまっていて、たいして気にならない。
だから、いつも遠くを見るようにしてる。
リモートのモニターの置く位置も、窓に向かっておいて、話しながら、空でも眺めると全然違った、豊かさに気づくと思う。
とっても有意義なここ数ヶ月。
ソーシャルディスタンスは、気付きの合図かもしれない。
今まで、密であって、さらに詰め込みで、欲しがりだった世の中
これからは、適度に、ゆとりのあるスペース、必要最小限がリッチ基準だと思う。
心の幸せ、安心の価値があがった!
素晴らしいと思う。
こういう暮らしかた、気付きを提案し続けたい。
The remote work here and the fact that the other side accepts it has evolved so much.
Up until now, it was customary to visit and meet, even as a courtesy.
The situation has changed, and I can't force people to meet, I feel like a person who can't do anything. Some sudden changes are inconvenient, but it is interesting to see.
It's across the screen, but I'm meeting and sharing time in real time.
It was a few months when I realized that I should use technology like this.
It was hard to get out, but in other respects, it was rather rational, and I felt like I was approaching my ideal life.
As for the manual work system, as it is natural, manual work is done realistically, and other than that, it is no longer paper-based, but progresses with the screen and glaring, naturally speaking with people.
I can't take a little interest in this sudden change, but I can enjoy it, but I don't think that there is a way to do it, even if I'm interested, I don't work.
Why? scared? Anxiety? unconfident? What is the cause...?
Only stubborn? What are you stubborn
1. Be firm and hard. Don't know, push hard. Unilateral.
2. It's greasy and difficult to remove.
It's only troublesome...
We all know that the generation that has the right to make decisions in this world is stubborn.
It's stubborn when you get old because you can't help it.
However, what I overlook is a story that does not fit in this era.
So, if you're old enough, be careful and be healthy and stubborn.
The more you look at the world in front of you, the more you can see it, and because you know it well, you will like and dislike it, so you will be stubborn.
Looking at a big object (a goal, etc.) that is very far away, it looks like a landscape, there may be various things in front of and in the middle of it, but it's all set in a magnificent view do not become.
That's why I always look far.
The remote monitor will be placed at the window, and while talking, you will notice a completely different richness even if you look in the sky.
The last few months have been very meaningful.
Social distance may be a sign of awareness.
Until now, the world was dense, crammed, and coveted
From now on, I think the rich standard is a reasonably spacious and space-required minimum.
The value of peace of mind and peace of mind has increased!
I think it's wonderful.
I would like to continue to propose ways of living and awareness.
Calendar

1
2
3
4
5
6
7
8
9
10
11
12
13
14
15
16
17
18
19
20
21
22
23
24
25
26
27
28
29
30
31
Selected Entries
Archives
Links
Profile
Search this site.
Others
Mobile
(C) 2020