2020.02.26 Wednesday
収納扉の理想形/Ideal storage door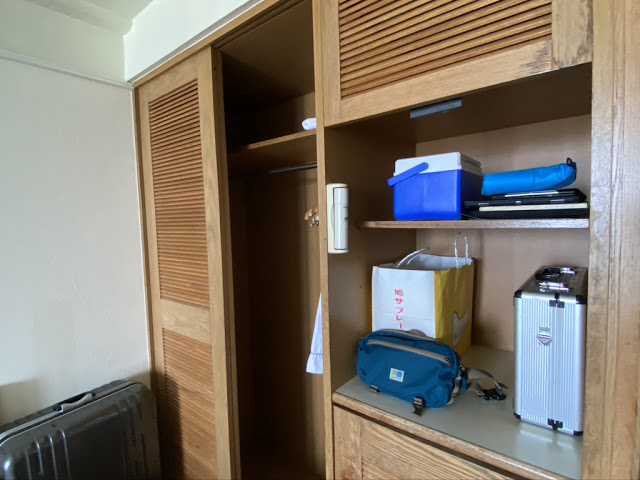 ある日の一コマ、暮らすだけの身の回りはこれで全部、って少ないんだけどこれで数ヶ月は快適に過ごせてる、過ごせちゃう。
着るもの少ないし、いつも同じだからかな、、、。
綺麗にはしてるつもり。

何もないから、散らからないし、身軽で動きやすい。
思い立ったらすぐ!っがかなりできる。
移動中の一コマですが、自分はこれで良いし、これを元に暮らしをデザインしていきたい。
十分を十分と思えるデザインと暮らし。
これって結構できないもの、なんだかんだ足しちゃうでしょ。
見た目だけじゃない、生き方も考えるデザイン。
真剣に取り組んでます。
素晴らしい機能があって、飽きがこない、コスパ良し。
物ってそれがベストでしょ。
このルーバー扉って、まさにそういうものだと思う。
ちなみにこの収納かなり古いはず、若い頃からあるホテルなんで。
ここはね、年中暑いし、蒸してるし、海から30Mぐらいだから、潮がすごい。
潮って言ってもわかんないかもしれないけど、潮風ね。風とともに湿気と塩分も入ってきて壁とかについてベタベタするんですよね。
塩ってしっけるでしょ、あれと一緒。
そんでもって、湿気ちゃってから、扉を開けて換気して、なんてするんだけど、扉開いちゃってるから、部屋の見た目悪いし、2枚扉の収納なんて、開けても半分は塞がるわけなんです、一枚板の扉だと、、、。
そこでルーバー扉。
常時換気、開けても換気可能、見た目も良い。
一枚戸より高いのはしょうがないけど。
中のものがカビたりしなければ、全然コスパ良し。
こういうものが集まって、美しく収まっている生活って良いと思いませんか?
良いものは良いんだなーとつくづく。
海横のワンルーム、最高!
贅沢はこういうところから。
It's one frame of one day, I don't have much personal life just to live in it, but I can spend comfortably for a few months with this, I can spend it.
I don't have much to wear and it's always the same...
I'm trying to keep it clean.
There is nothing, so it doesn't get cluttered, and it is light and easy to move.
As soon as you think of it! I can do a lot.
It's one frame on the move, but this is good for me, and I want to design a lifestyle based on this.
Design and life that make you think that enough is enough.
This is something I can't quite do, and I'll add somehow.
Design that not only looks, but also thinks about how to live.
I am seriously working.
It has a great function, and you will never get tired of it.
Things are the best.
I think this louver door is exactly like that.
By the way, this storage should be quite old, because it is a hotel that has been around since I was young.
It's hot here all year round, it's steaming, and it's about 30M from the sea, so the tide is amazing.
You may not understand it when you say tide, but it's a sea breeze. Moisture and salt also come in with the wind, and it sticks to the walls.
It's salty, right?
Then, after it gets damp, I open the door and ventilate, but because the door has opened, the room looks bad, and storing two doors closes half even if opened. If it's a one-plate door...
Then the louver door.
Ventilation at all times, ventilation is possible even when opened, and it looks good.
Although it is inevitable that it is higher than a single door.
If the contents aren't moldy, the cospa is good.
Wouldn't it be nice to have a beautiful life with all these things together?
Good things are good.
One room by the sea, the best!
This is where luxury comes from.
Calendar

1
2
3
4
5
6
7
8
9
10
11
12
13
14
15
16
17
18
19
20
21
22
23
24
25
26
27
28
29
30
31
Selected Entries
Archives
Links
Profile
Search this site.
Others
Mobile
(C) 2020