2020.07.13 Monday
色 いろいろ/Various colors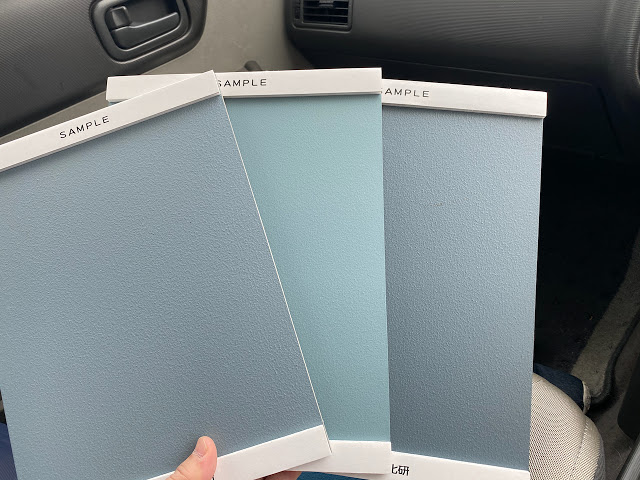 色って気分に大きな影響を与える要素が多い。
みんなわかっているとは思うんだけど、組み合わせだったり、使う場所だったり、身に付け方だったりで、いろんな見え方になってしまう。
住宅なんて、外壁、内装なんか塗る場合、洋服みたいにそうそう着替えるわけにはいかないし、日本は四季があるし、海も山も川もある様な、表情豊か。
どれが正解かって考えたら、正解は見当たらない、、、。

山の中にポツン、その家だけって計画をするときは、その景色と相談しながら、個性を出すのか、馴染ませるのか、お客様と相談しながら決めていく。
個人的には、馴染む方が好き。

日本の住宅、街並み、色って、どうもアンバランス。
カルフォルニアを意識した海沿い住宅の横に、昭和30年台の瓦屋根
干物を干している漁港の横に、座敷の食堂、その横にウエディングドレスが似合う、ウエディング場。
あぜ道、瓦屋の間の狭い道にポルシェ。
ハイヒールで脱いで座敷でご飯。
不思議が満載。

そろそろ豊かさって、物じゃないって気づいているはず。
時間と中身、内容の時代。
外観とか、形とかではなく、再生可能であったり、単純に便利だったり、やすかったりとかでいい。
土地愛と言うか、地元愛が少ない国だとも思う。
裕福になられると、大体 海外へ移住される。
いろんな意味で、暮らしたくないんだよね本音は、、、
ダサいと思ってるんだよね。

ちょっと脱線ね。
風致地区によくある、色は、何系みたいな感じで、住宅は色番号何から何までみたいなもの決めちゃえばいいのに、、、。
乱暴かもしれないけど、30年ほどしてくると、それなりに統一感もあり、その統一感が出ている街に付加価値が生まれ、色から始まる素敵な地方創生が生まれると思うのは自分だけだろうか?

ここ最近の事情により、モバイルワークを実践して成り立ってくると、それこそ、どこにでも暮らせる様になり、自分の場所に対して、プライベート感が欲しくなるし、その周りにも価値観が欲しくなるのは当然だと思うし。
そう言う意識を高めていったほうがいい。
身の回りを大事にするから。
今後それが提供、もしくは作れなかったら、行き場なくて、愛着もなくて、出て行ってしまうのは当然。
いる意味がない。

海辺に引っ越したいなー、あの街綺麗だし、素敵だなー、あそこで暮らしたいなーって感情、行動が増えてこないと、街、国は成り立たない。

日本のカオスな現代からの脱出
色 いろいろからだったら、始めやすいと思うんだよね。
外壁塗り替え、従うことで少し補助とかね。
やり方は色々だと思うが、、、。

ちょっと前まで着物だったんだから、今、切り替えれば、素敵な島になると思う。
今から、着物に戻るとは思わないし、これと言って、衣食住に大きな変化もなさそうだし。今までは勉強だと思って、意識改革ですね。

どうかな?
Color has many factors that have a great effect on mood.
I think everyone knows, but depending on the combination, the place where you use it, and the way you wear it, there are various ways to look.
When you paint a house, the outer wall and the interior, you can't change clothes like that, and Japan has four seasons, and there are many seas, mountains, and rivers.
If you think which is the correct answer, you can't find the correct answer...
When planning a house in the mountains, you should consult with the scenery and decide whether to bring out your individuality or adapt it to the customer.
Personally, I prefer to get used to it.
Japanese houses, cityscapes and colors are unbalanced.
A tiled roof of the 1955 level next to a Californian residential house
Next to the fishing port that is drying dried fish, there is a dining room in the tatami room, and next to it is a wedding hall where wedding dresses look good.
Porsche on the narrow road between the ridge and the tile roof.
Take off with high heels and have rice in the tatami room.
Full of wonders.
You should be aware that richness is not something.
Time, content and content age.
It doesn't have to look or shape, but it can be regenerated, simply useful, or easy.
I think it's a land love, or a country with little local love.
When we become wealthy, we usually move overseas.
In many ways, I don't want to live, the real intention is...
You think it's dull.
A little derailment.
The colors that are often found in the scenic areas are like what kind of color, and I should have decided what kind of color number the house has.
It may be violent, but after about 30 years, there is a sense of unity, and I think that a city with a sense of unity will create added value and create a wonderful regional revitalization that begins with color. Is it just?
Due to the recent circumstances, if you practice mobile work, you will be able to live anywhere, you will want a sense of privacy for your place, and you will also want values around it. I take it for granted.
It is better to raise the awareness to say so.
I take care of myself.
If it can not be provided or made in the future, it will be natural to go out without attachment and attachment.
There is no meaning to be.
If you don't want to move to the seaside, that city is beautiful and nice, you want to live there, you can't build a city or country without increasing emotions and actions.
Escape from the chaotic modern times of Japan
I think it's easy to get started if there are various colors.
Repainting the outer wall and following it is a little help.
I think there are various ways to do it...
I used to wear a kimono until a while ago, so I think if I switch now, it will become a wonderful island.
From now on, I don't think I'll be returning to kimono, and I don't think there will be any big change in food, clothing and housing. Up until now, I think it's a study, and it's a change in consciousness.
How about?
Calendar

1
2
3
4
5
6
7
8
9
10
11
12
13
14
15
16
17
18
19
20
21
22
23
24
25
26
27
28
29
30
31
Selected Entries
Archives
Links
Profile
Search this site.
Others
Mobile
(C) 2020